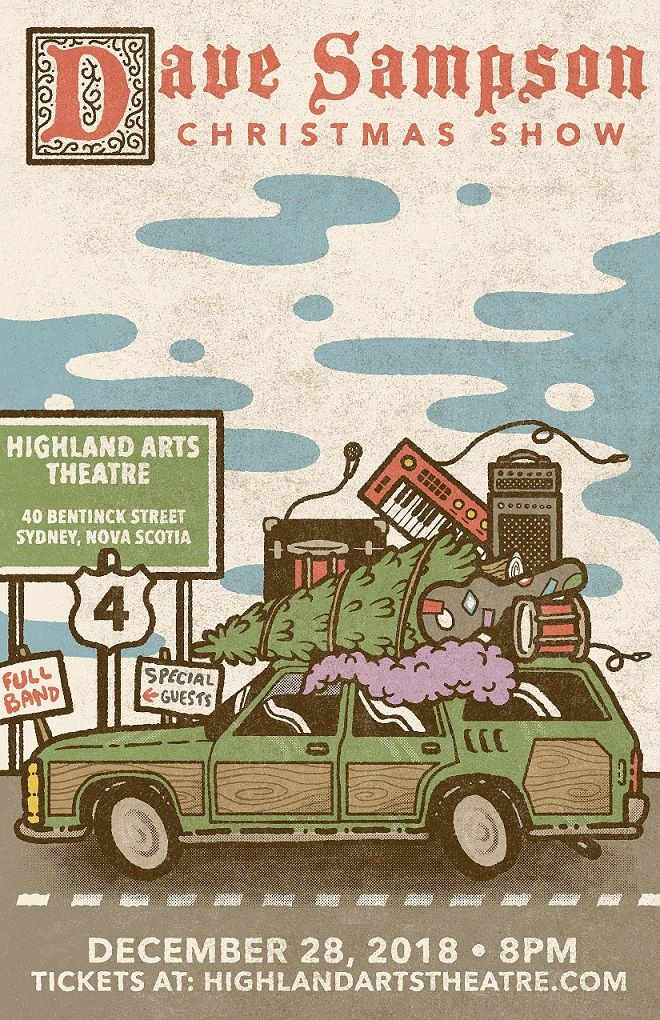 Hometown singer/songwriter Dave Sampson brings his band + VERY SPECIAL guests to The Highland Arts Theatre for his annual Christmas show. 
Cape Breton Island is not shy to the tunes and support of Dave Sampson. As a thank you to the Island, Dave is bringing his band home for the holidays for a Cape Breton Christmas Show following his SOLD-OUT performance last year. Currently residing in Halifax, Sampson is busy preparing for his bands most extensive Christmas show to date by introducing many new songs he has written throughout the past year. The show will take place at the iconic Highland Arts Theatre (the HAT) on December. 28th. 
Sampson's Christmas show has become a holiday tradition throughout the past few years; where families, friends and neighbors have come together to toast the season while enjoying the songwriting and sounds of one of Atlantic Canadas musical stars. 
Being an artist from Cape Breton Island is something that is very special. I was fortunate to learn how to play guitar by Joe Waye Sr. years ago and since then continue to receive huge support from those involved in the CB Music industry. The support Cape Breton has given to me has been both humbling and immeasurable. I am looking forward to stepping our Christmas show up this year by bringing my entire band home for the holidays. We are looking forward to presenting both my latest and past tunes. 
Sampson writes heart-on-your-sleeve folk/pop songs, delivered with a captivating and authentic voice that could blow down a brick house. His knack for crafting simple ear-worms and his high-energy shows have been winning him fans across Atlantic Canada for the past several years. Over this time, he has shared the stage and worked with artists such as Classified, Gordie Sampson, Port Cities, Mo Kenney and Ria Mae to note a few. 
In 2014, Sampson released his anticipated debut album No Pressure, No Diamonds with producers/collaborators Carleton Stone, Gordie Sampson and Dylan Guthro . With the release of this album, No Pressure No Diamonds was nominated for Music Nova Scotias POP album of the year, reached #1 on the ECC charts twice and received national airplay throughout Canada. Sampson was also invited to Germany with songwriters Carleton Stone and Breagh Mackinnon to participate in a songwriting retreat followed by a tour. 
In 2015, Sampson's song No Pressure, No Diamonds was picked up by Canadian Hip Hop icon Classified and released as his first single on the billboard charts. Currently still charting, the song also features hip-hop legend Snoop Dogg. Dave also received a songwriting nod on Neon Dreams single Love Experts which made it to the billboard EDM top 40. 
Sampson has also been hand-picked as one of Nova Scotia's most promising young songwriters to take part in the prestigious, invitation-only Gordie Sampson Songwriting camp for the past 5 years. Through this opportunity, he has been fortunate enough to collaborate with the provinces finest writers. Sampson was recently selected by the Canadian Music Publishers Association to travel to Los Angeles this month to participate in a song writing initiative with a number of US writers and publishers, something he is very excited about.